Stan Rogers: A Short Biography
By Emily Friedman
A child of Maritime stock on both sides of his family, Stan Rogers was born in Hamilton, Ont. on November 29, 1949. He grew to be a big man-six feet four-built like a fire truck, and posessed of a voice that rumbled from his toes. He could bluff and bellow yet was at heart a poet and intellect who would, often as not, sneak away from a gathering to curl up with a book. He made friends and enemies easily, gaining the former for life and often, in time, converting the latter.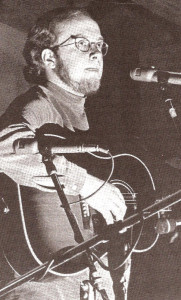 He became a songwriter too, working as a rock bassist while still a teenager and later embracing the folk idiom. After a few years as a more-or-less conventional folkie songwriter, he discovered his real gift. After some persuasion by his Aunt June in Canso Nova Scotia, he began to write songs about his familial home…his roots. Those early songs found their way on to Stan's first album, Fogarty's Cove, and he was on his way. From that point forward, Stan's best writing was about the Canadian experience. His songs gave a new voice to ordinary folks who worked the fisheries, mines and farms of this vast country.
Stan was a passionate Canadian partisan, and much of his short creative life was taken up with song cycles that chronicled the East, the Plains, the West and finally the Great Lakes and Ontario. It was a natural progression for a wanderer…to scan a continent and finally return to write of the wonders of home.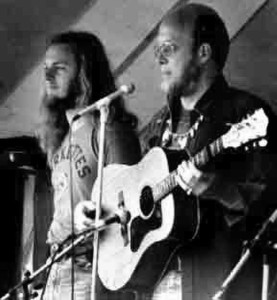 He was always on the road pursuing his dream of establishing a national identity for Canadian songwriting. It was a dream fulfilled; through his constant soaring, dynamic performances, and brilliant songs, he was known throughout most of the English-speaking folk music world. Stan died in a fire on Air Canada flight 797 at Cincinnati, Ohio airport on June 2nd, 1983. He was returning from a folk festival in Kerrville, Texas. Memorials and honours were numerous in the months that followed and in May, 1984 he was posthumously awarded the Diplôme d'Honneur by the Canadian Conference of the Arts.
His music continues to amaze, amuse and inspire people from all walks of life. It has appeared in several poetry anthologies, been used in films, plays and musicals, and has been referred to as "one of the touchstones of modern Canadian history."
Emily Friedman was the publisher of Come For to Sing out of Chicago, a magazine for which Stan Rogers was a regular contributor.
Stan Rogers: Folksinger/Songwriter
By Gene Wilburn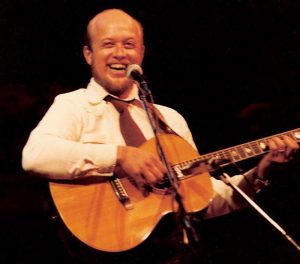 Many fans consider Stan Rogers the greatest Canadian folksinger ever, and the loss due to his death in an airline disaster in 1983 is still felt deeply. Every folk collection should contain a selection of Stan Rogers recordings. With assistance from his wonderful musicians, especially his brother Garnet, who adds magic to song after song with his fiddle playing, Stan created some of the finest folk music on record. If you're like most people who discover his music, you'll probably end up purchasing all the albums in his too-brief discography. Rogers is a memorial member of the Porcupine Awards Hall of Fame.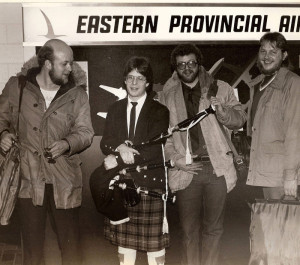 Rogers' ascent in popularity began with his discovery of the songwriting potential of the Canadian Maritimes, his ancestral home. He plumbed the history and character of Maritimes fishing and mining villages in his outstanding debut album, Fogarty's Cove. The album is filled to the brim with what are now Stan Rogers classics, such as "Forty-Five Years," "Fogarty's Cove," "Barrett's Privateers," and "Make And Break Harbour." Rogers' second album, Turnaround, is a little patchier, containing such gems as "The Bluenose" and "The Jeannie C.", but also containing some rougher, early material that shows a developing Stan Rogers rather than the later, mature artist. Between The Breaks…Live!, one of two live albums in Rogers' discography, is a classic that provides a good blend of Stan's original material mixed well with that of other songwriters. His cover of Archie Fisher's "Witch Of The Westmorland" is one of the album's highlights. The version of "Barrett's Privateers" on this album is considered by many to be definitive.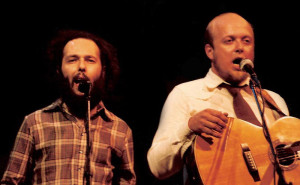 From the opening, achingly beautiful a cappella "Northwest Passage" to the gently lingering "California" that rounds out the album, Northwest Passage may be Rogers' finest work. It continues his exploration of the songwriting possibilities of Canada, this time the Canadian prairies and Canadian West. The album features some of his strongest lyrics: "Lies," "Free In The Harbour," "The Field Behind The Plow," "The Idiot," and, of course, "Northwest Passage." Interspersed between Northwest Passage and From Fresh Water is Stan's "fun" album, For The Family on which he performs the traditional music his musically-talented family grew up on. A tribute to his roots, Family provides an insight into the direction Rogers might have taken. This was the first, and only, album he produced himself. He dispensed with the background strings, returning to a plainer, more traditional folk sound. From Fresh Water, released posthumously, was Rogers' last major project–a set of songs he wrote about the Great Lakes region of Canada where he was raised. His song cycles about Canada had come full circle, back to his home. The album includes some great Rogers' compositions, including "Lock-Keeper," "White Squall," "The Last Watch," and "The Nancy." It also displays a rarer side of Rogers–a pair of protest songs: "Tiny Fish For Japan," and "The House Of Orange." Ten years after Stan's death, Fogarty's Cove Music posthumously released a concert recorded in 1982 in Halifax, Nova Scotia. Home In Halifax, a superb live recording, preserves the essence of a Stan Rogers concert performance, including snatches of stage patter. It catches Garnet Rogers' engaging humour, and, arguably, the best version of "Barrett's Privateers" on all of Stan's albums. It also includes a previously unrecorded Stan Rogers song, "Sailor's Rest."
This selection is an excerpt from Northern Journey: A Guide to Canadian Folk Music, Reference Press, 1995. Copyright © By Gene Wilburn. ISBN 0-919981-45-3. For more information, see Northern Journey Online.
Stan Rogers: A Tribute
by Stephen Ide, The Patriot Ledger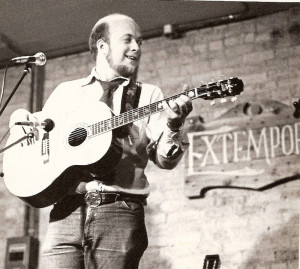 When Stan Rogers died in 1983, a piece of Canada died with him, and the folk community was stunned. His resounding baritone, saturated with emotion, embodied the spirit of the fisherman, the farmer, the working man, the common man. His unique portraits of the Maritimes, western Canada and the Great Lakes region grabbed you by the heart and pulled you in.
A towering figure, balding and bearded, Stanley Allison Rogers loved not only performing, but the people in his songs. Stories about people living near him affected him; details of their lives became elements of his songs.
Though his music has been available for years, it is now being made available on CD. In addition, Ariel Rogers said she is trying to gather usable material from her husband's tapes to issue more. From Fresh Water, Rogers' last album, is the first in a series of five remastered releases on CD. Roger's first LP, Fogarty's Cove, is expected to be next, Ariel Rogers said.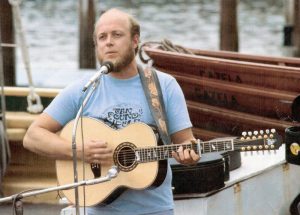 From Freshwater, recorded 1982-83, is a tribute to the Great Lakes region. It reveals the full depth of Rogers' cavernous vocals. From "The Nancy," a recounting of a lake battle in the War of 1812, to the sad, poignant vocals of "The Last Watch," about the retirement of man and boat, Rogers' songs are true to their historical content. An avid reader, he researched many songs extensively or drew upon observations.
Rogers' mother, Valerie, runs the family's record business. She said Stan wanted to learn about the fresh water fishermen and arranged a trip on a Turtleback boat on Lake Erie in 1981. When he returned, she asked what he had learned: "I learned not to throw up into the wind," he said, according to Mrs. Rogers, who added that he generally had a cast- iron stomach. He then wrote "Tiny Fish for Japan," about inland fishermen out of work.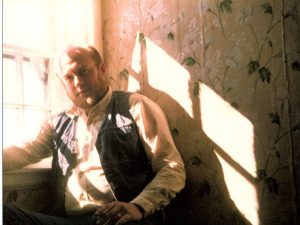 If the CD of From Fresh Water is an indication, some of the sound problems inherent on earlier releases have been resolved. But, while the CD version is better than the vinyl, it's not remarkably better, largely because the music was typically over-produced and the CDs were not remixed.
Rogers' music is available from Silo/Alcazar, Box 429, Waterbury, Vt. 05676, 800-541-9904, or Valerie Enterprises, 1051 Woodburn Rd., RR#1 Hannon, Ontario (416)-692-4020, and also Fogarty's Cove Music.
An excellent mix can be found on the CD "For the Family," a self-produced album released just before Rogers' death. It contains songs written by family members and others.
Also available is the video documentary release One Warm Line: The Legacy of Stan Rogers, a CBC production with interviews with Stan and video of some performances. Though only 45 minutes, it features some of his best, from "The Mary Ellen Carter" and "Northwest Passage" to "Barrett's Privateers," with stirring footage. The CD releases of Rogers' other albums, Turnaround, Between the Breaks…Live and Northwest Passage will be along as production allows, Ariel Rogers said.
Rogers downplayed his guitar-playing abilities, though he was capable and often used unusual tunings. But it was his crafted lyrics and voice — that grew like a low rumble from a distant engine to a raucous bellow – that drew admirers.
"In the last couple of years he was alive, he was really getting a sense he had found his path or metier," said his brother, Garnet. "He realized he was also getting the approval and appreciation from his peers, not just the audience.
Stan Rogers' music affected many. Eric Bogle and John Gorka dedicated songs to him. Gorka remembered meeting him on Friday, Dec. 6, 1980, at the Godfrey Daniels coffeehouse in Bethlehem, Pennsylvania. Rogers' songs left an indelible impression on him. "They aren't just songs, they're literature. They're rich with detail and full of life," Gorka said recently. "They are songs you felt like you could learn something from."
"For every song that he was coming out with he was trying to explore and explain something about the human condition," Garnet Rogers said. Garnet is enjoying his own success as a singer-songwriter, after at least 10 years of singing and performing with his brother and arranging the music.
Stan, in April 1982, wrote that "no other person can claim to be so much of an influence on my music, or so indispensible to what I do as Garnet."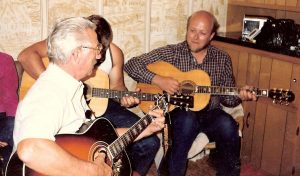 As children, the Rogers were surrounded by many styles of music. Their uncles sang and played guitar. Garnet said he and Stan got their voices from their father, Nathan, a bricklayer. Stan got his first guitar at 5, built by an uncle out of birch plywood, welding rods and a toothbrush. Intellectually ahead of his peers by high school, Rogers began playing music in earnest.
By the mid-'70s, he was commissioned to work on Canadian Broadcast Corporation documentaries on aspects of Canadian life. Though raised in rural Hannon, Ontario, Rogers spent summers with family in Nova Scotia, and became influenced by the lives of fishermen and the sea.
In 1977 Fogarty's Cove contained many songs written for CBC recordings: "Make and Break Harbour," about the hard life of inshore fishermen, and "The Rawdon Hills," about inland gold mining. It also had his raucus sea chanty, "Barrett's Privateers."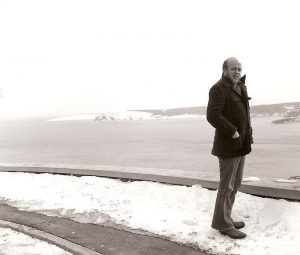 But the first album caused some confusion, associating Rogers as a Maritimes writer. "We were coming from 'away' (a name for outsiders) and going to the Maritimes and singing songs about dying Maritime culture…They wanted to hear Hank Williams," Garnet Rogers said. Then we'd come back to Ontario and play the club circuit, the coffeehouses, and they would see us as being a real Maritime act."
In 1978, Turnaround, was less thematic. It featured one of Rogers favorites, "The Jeannie C," about the loss of a boat and a fisherman's spirit. The tender "Song of the Candle," was written in 1972 when Rogers was enriching his repertoire among a group of London, Ontario musicians, known as the London Mafia, that included folk singers Doug MacArthur and Willie P. Bennett.
By 1979, Between the Breaks…Live became Rogers' only live album, featuring the inspiring "Mary Ellen Carter," the tale of a man who, against all odds, had the verve to raise a sunken ship: "And you to whom adversity has dealt the final blow/With smiling bastards lying to you everywhere you go/Turn to, and put out all your strength of arm and heart and brain/And, like the Mary Ellen Carter, rise again!"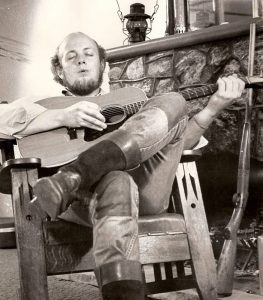 In 1981, Northwest Passage unveiled a new side of Rogers. He was taking his music to western Canada and the Yukon. There, he watched a Saskatchewan farmer plowing fields into the early morning for "Field Behind the Plow," and sang an anthem to farmers' wife in "Lies."
On June 2, 1983, Rogers was headed home from the Kerrville Folk Festival in Texas. A fire started in the restroom on Air Canada flight 797. It was forced to land in the Greater Cincinatti Airport. Rogers was one of 23 people who died of smoke inhalation. He was 33.
Reprinted with permission of Stephen Ide. This article ran in The Patriot Ledger, a daily newspaper just south of Boston.